MilesWeb is another leading name in the market of hosting providers in India. They offer the best and quality services at an affordable price.
When looking for an affordable option to host a website, we opt for the basic shared hosting service. And why not? Shared hosting services are cheap and provide you a good enough features.
However, as your website grows, you will find that it will require more resources and functionalities. It is the right time when you need to look for VPS hosting. VPS hosting is a step up from shared hosting as it offers more speed, power, and advanced features for your high-traffic or growing website.
If you go through this MilesWeb review, then you will come to know the best thing about their managed VPS hosting.
Let us start by knowing MilesWeb as a company, and then we will move forward to know about their best Linux VPS hosting India in detail.
Know About MilesWeb
MilesWeb is an Indian-based web hosting provider. Their services include shared hosting, reseller hosting, WordPress hosting, cloud hosting, cheap windows VPS hosting, and dedicated server hosting.
MilesWeb is an award-winning web hosting provider recognized for offering web hosting solutions to individuals, small and medium-sized businesses. To put it in simpler words, it aims at meeting the needs of business owners with its varied web hosting services.
VPS Hosting
A VPS, also known as a Virtual Private Server, is becoming the most popular solution for many businesses. VPS hosting gives you more control and security as compared to shared hosting over an isolated environment. VPS hosting shares the physical server with few others but assigns dedicated resources to each user.
Benefits of VPS hosting
One of the most important benefits you get in VPS hosting is the amount of bandwidth and space.
It is necessary if your website generates a high amount of traffic or if you expect extensive growth shortly.
With VPS hosting, you get complete power and all the advanced resources for the optimal performance of your website. You also get ultimate reliability and stability that helps to reduce downtime issues.
In terms of cost, VPS hosting falls between shared and dedicated hosting.
Fully Managed VPS Hosting of MilesWeb
With the fully managed VPS hosting, the in-house expert team of MilesWeb will monitor your complete VPS. Also, they take complete care With the fully managed VPS hosting, the in-house expert team of MilesWeb will monitor your complete VPS. Also, they take complete care of server management so that you can focus on growing your business. You don't have to pay any additional cost for VPS management. The VPS plans are the best options for those who want to upgrade from a shared platform to a VPS and do not have any prior technical skills or system administration knowledge.
MilesWeb's VPS Hosting Plans and Pricing
MilesWeb has a different range of VPS hosting plans to choose from. They have managed VPS hosting plans divided into Standard and Memory Optimized.
The Standard VPS hosting plan comprises ten plans and, the Memory Optimized VPS server hosting plan comprises eight packages.
Standard VPS Hosting Plans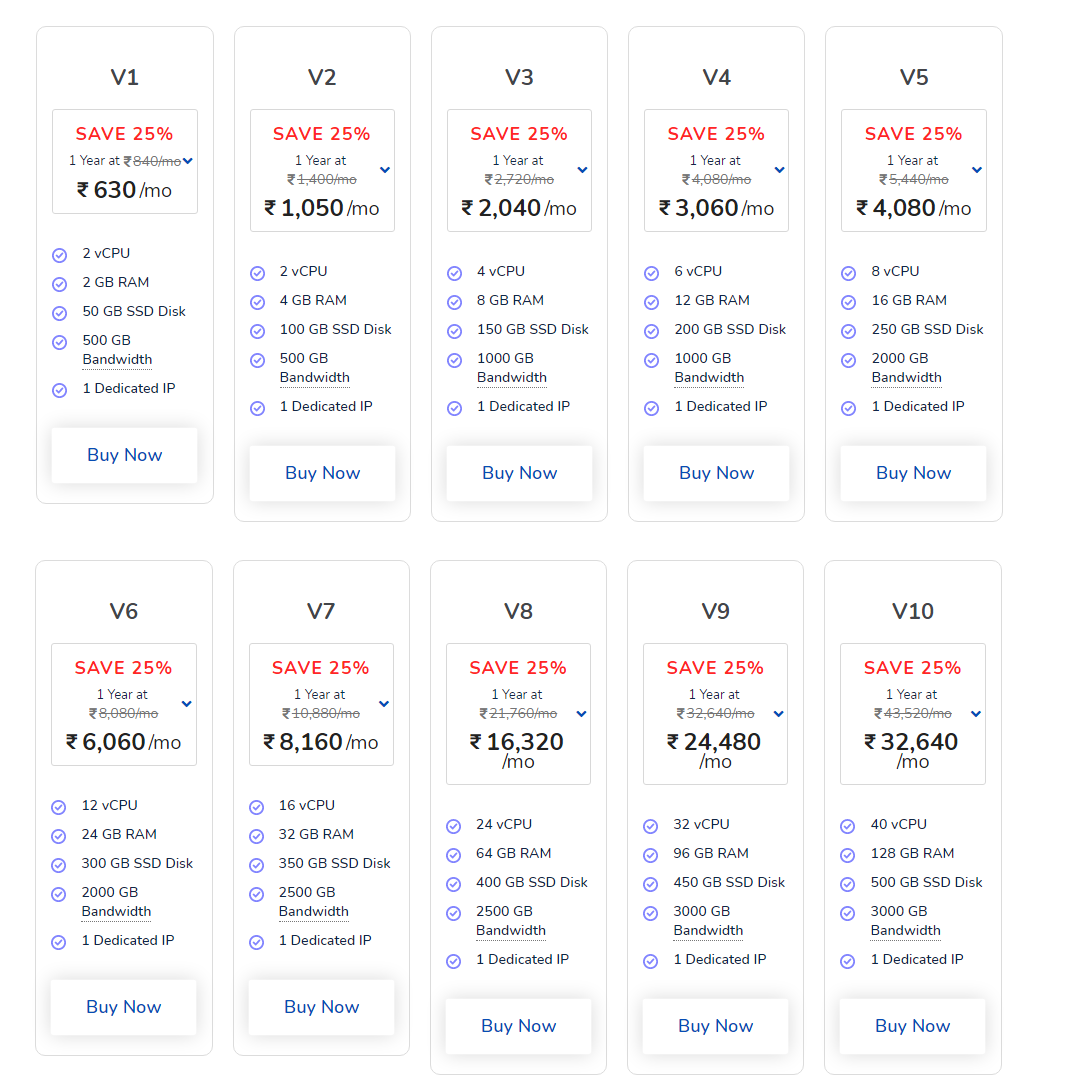 Memory-Optimized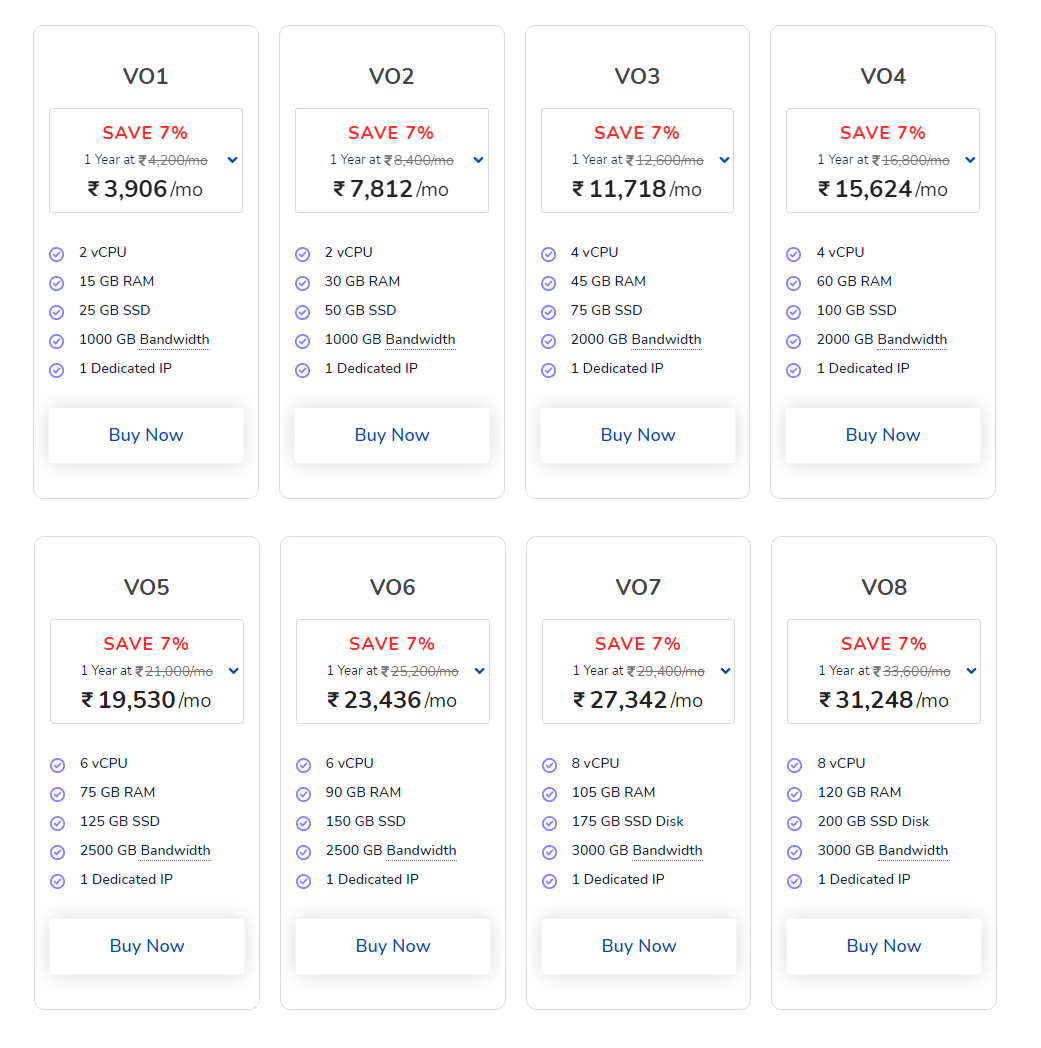 To know about the resources and the pricing of each VPS hosting plan, refer to the above image.
Features of MilesWeb's VPS Hosting
Instant Provisioning
For customers that subscribe to VPS hosting, MilesWeb promises and delivers instant provisioning of their services. It is the best thing for people who want to skip the lengthy verification process. After confirmation of your payment, your hosting account is set up and, your website will be live instantly.
SSD VPS Servers
When you opt for MilesWeb's VPS hosting, you get to host websites on the servers with built-in 100% SSD drives. They use SSD technology with all servers to ensure that you get high-performing VPS hosting. The SSD VPS servers act as a reliable web hosting platform for your websites/applications.
Control Panel Installation and Configuration
You don't have to worry about the control panel installation and configuration. You need to simply choose the control panel from DirectAdmin or cPanel, WHM, and decide which VPS hosting plan you want to opt for. Their support team will install and configure the control panel for you.
Customer Support
MilesWeb offers multiple customer support channels like live chat, email, and ticket support. If you require any instant help, their support team is available 24/7 to help you resolve issues related to web hosting.
Uptime Guarantee 99.99%
MilesWeb offers a 99.99% uptime guarantee for its VPS hosting service. A very high uptime guarantee in the industry! They make sure that your site will be available almost always. With their Tier-3 and Tier-4 data centers, you get the best uptime for your high-traffic websites.
Conclusion
MilesWeb offers the best VPS server hosting for your resource-heavy website/application. With all the VPS hosting plans, you get top-notch features like a 99.99% uptime guarantee, SSD-based VPS servers, and 24/7 best customer support. Compared to other website hosting providers in the market, MilesWeb Serves the best VPS hosting services at affordable prices.